Home
Profile
Articles
Reference Info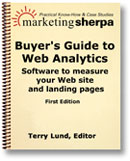 Web Analytics Buyer's Guide -- published April 2004
Editor - Terry Lund
Do you need better reports to measure your Web results from search, affiliate, email, site tweaks, or online ads?
This 1st edition Buyer's Guide to Web Analytics gives you comparison charts for 53 products from 48 vendors.
More info...
Copyright Notice
Copyright © 2003-2004 Terry Lund and Terry Lund Consulting. Permission to copy and to repost or archive this material to lists, newsgroups, and other electronic servers is granted provided that no fees are charged aside from normal access fees, and that this material is copied in its entirety, including a reference to Terry Lund, and this Web site, www.terrylund.com.