Home
Profile
Articles
Reference Info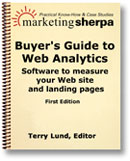 Web Analytics Buyer's Guide -- just published
Editor - Terry Lund

Do you need better reports to measure your Web results from search, affiliate, email, site tweaks, or online ads?

This 1st edition Buyer's Guide to Web Analytics gives you comparison charts for 53 products from 48 vendors.
More info...


Please check back often as this page will be updated regularly.
Let me know if you want to be notified when this page is changed.
We have compiled a comprehensive list of Web analytics vendors that currently contains 133 entries (updated January 24, 2005)
Some analytics vendors to consider for different needs:
(the links below will open a new browser window)
A high end system, but competitively priced, with powerful capabilities for interactive data analysis and visualization, and with the most comprehensive methods for data collection. I encourage you to contact them to learn more information. Their products are available as licensed software, or as a managed service, and it can be set up to utilize server-side data collection and/or page tagging, individually or together for the most complete data collection methodology.
One to consider, with strong integration for email tracking and comprehensive reporting via page tags, and a free demo is available upon request..
One of the most popular logfile packages in the world, and it's free. software
An amazing, low cost, tool for navigation and search engine tracking, available as a desktop app or a hosted service, free trial.
Pilot HitList is the industry's first packaged, yet customizable, Web channel performance management product that includes dashboard, analysis & reporting, and modeling & integration capabilities all in one convenient package.
This is a fairly new and interesting tool, with a unique way to visualize site traffic, free trial.
A wide range of capabilities, including log file analysis and page tagging solutions, a popular package.
Client side and server side collection
Page tagging with ASP delivery
Page Tagging with ASP delivery
Server log files, available as licensed software or ASP
Page Tagging, ASP solution
Pioneered network collection technique, high end capabilities
Combines web server logs and client side collection, free 15-day trial available
Free log file analyzer
Free software for web, ftp, and mail server statistics
Multiple data collection techniques
Low cost server log file analysis
Web Metrics Links
---
Let me know about links to add so this list includes any related links for web metrics information.
emetrics.org - a starting point for Emetrics information by Jim Sterne
" Web Marketing Info Center" - An excellent set of links for web analytics articles for marketing folks, maintained by Dr Ralph Wilson.
" Clicktracks White Paper" - An excellent description of the pros and cons of log file analysis and page tagging approaches, with a description of the Clicktracks approach to integrate "the best of both worlds".
" WebMarketingEffectiveness" - A Yahoo Group focused on eMetrics issues and activities, organized by Dave Wagner.
"Actionable E-Metrics" - An actionable online analytics framework is a key ingredient in any intelligent enterprise by
Allen S. Crane
" Log File Analysis" - An introductory article about web traffic measurements
Wynsoft Systems Ltd, UK
" Web Analytics Demystified" - A web blog which contains a number of helpful insights and important links - by
Eric T. Peterson, Director of Professional Services at Web Side Story.
" Web Traffic Analysis Software" - An older article, but one that contains a decent description of factors to consider when evaluating web analysis software. - by
Mike McClure, when he was at Marketwave (which is now part of PilotSoftware.
Other Useful Links
---
How many people on line is tracked by NUA.
Karl Wiegers, a former co-worker, has valuable information to help improve your software development processes at www.processimpact.com .